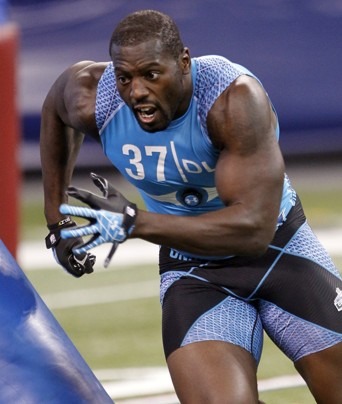 Instead of the wide receiver prediction we were all betting on, the Houston Texans went looking for another pass rusher and more depth at the linebacker position.  Whitney Mercilus, DE out of Illinois, was the Texans 26th overall pick in the NFL draft Thursday night. 
He is very similar to Mario Williams when it comes to speed and intensity.  Whitney is a 6'3, 261lb early- entry junior who ironically only started for one season in college, but led the entire nation in sacks and forced fumbles.  He is the type of player that could be a great replacement on the Texans defense with his knowledge of the game and athleticism. 
Many believe that Mercilus would be a Top-10 pick in next year's draft, if he had stayed in school.  Whitney says he's ready to make an immediate impact on the team's performance, regardless of his light experience.
"I answer that criticism as I just became more of a student of the game," Mercilus said. "Definitely, when I got my opportunity, I made the most of it. Instead of being behind a starter, who was ahead of me in my last years, 2009 and 2010, once I got my opportunity, I was able to make the most of it and just shine through."