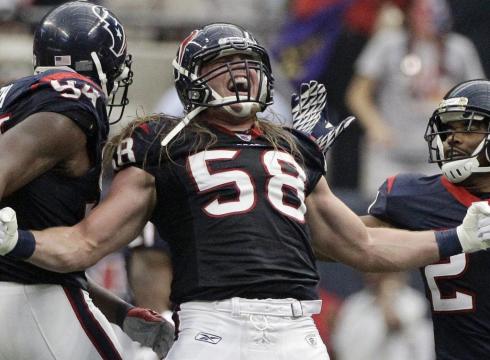 The last time that Houston had a football team in the playoffs was far too long ago. The Houston Texans beat the Cincinnati Bengals Saturday at Reliant Stadium. The crowd roared throughout the entire game and surely made the Bengals fans feel like there was less than a chance. As the game went on, that chance diminished. The final score was 31-10 and it doesn't seem like the Texans are going to slow down, on either end of the field. After four sacks and three interceptions, Cincinnati QB Andy Dalton felt the wrath of the second ranked Texan defense. January 15th will be another trying day for Houston, having to match up against the AFC North champion Baltimore Ravens at 12:00pm. In 1994, Houston's former team, the Oilers, hosted the Kansas City Chiefs in the Astrodome. T.J. Yates was just a little boy at that time, but he isn't anymore. He went 11 for 20 for 159 yards and a touchdown to Andre Johnson. Ironically, this was a homecoming for Dalton, the Katy Texas native.
Dalton's numbers actually superseded Yates's, while finishing with 257 yards, but was no match for the Houston D. Arian Foster is and has been a force to reckon with, with 153 yards and 2 touchdowns on 24 carries.
Good Luck on the road to the 2012 Super Bowl, Houston!
Don't want to drive to the next game? Just hop on a plane and let N-Motion Auto Transport get your vehicle there for you so that you can still have that car for crusin' around the city.