N-Motion knows the hassle of not having a car when it's needed most.  When shipping a vehicle from coast to coast, it's very likely that the customer will arrive via plane prior to the vehicles arrival.  For such a situation, N-Motion has teamed up with Enterprise Rent-A-Car to facilitate this very need.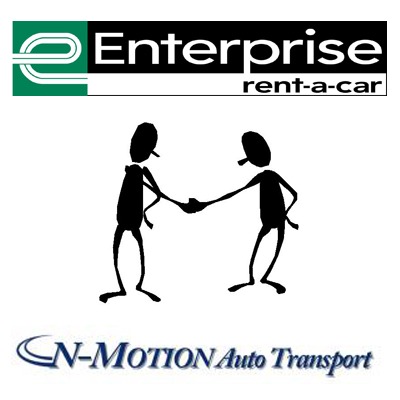 Every so often, a customer travels across the country. Whether it is for leisure or to live, people tend to choose an auto transport service vs. driving the vehicle a mass amount of miles.  Car shipping is far more convenient these days for a multitude of reasons.  Calculate the cost of gas, food, wear and tear on the vehicle, hotel accommodations, airfare back to the destination, and the time spent planning & driving. The benefits of vehicle shipping with N-Motion Auto Transport are very obvious.  The last thing anyone would need to remember when deciding whether or not to ship a vehicle is the most important of them all, a person's safety.
When in the case that the customer arrives prior to the vehicle, N-Motion offers a nice little discount through Enterprise Rent-A-Car.  No need to worry about calling all of those rental companies to set something up and/or trying to find availability last minute.  N-Motion Auto Transport takes care of all clients from start to finish!  All the customer has to do is arrange their flight arrival time with the N-Motion agent and that agent will make all of the necessary preparations so that the rental vehicle is available and waiting for the customer.
Want to join the lucky group of customers currently enjoying the services of N-Motion Auto Transport?  Just call today and find out how much you can save!!